Over the weekend, I discovered a web site where a group of dedicated film fanatics have been systematically counting on-screen kills for various actors for several years. I immediately set out to scrape all of the data from their web site and forums so I could visualize it and see what we could learn. I posted the data online to save everyone else the chore of repeating the scrape.
Below is the second in a series of visualizations I created, showing the top 25 deadliest actors by on-screen kill counts. If you would like to feature any of these visualizations on your own web site, please contact me first.
[caption id="attachment_2266" align="aligncenter" width="688"]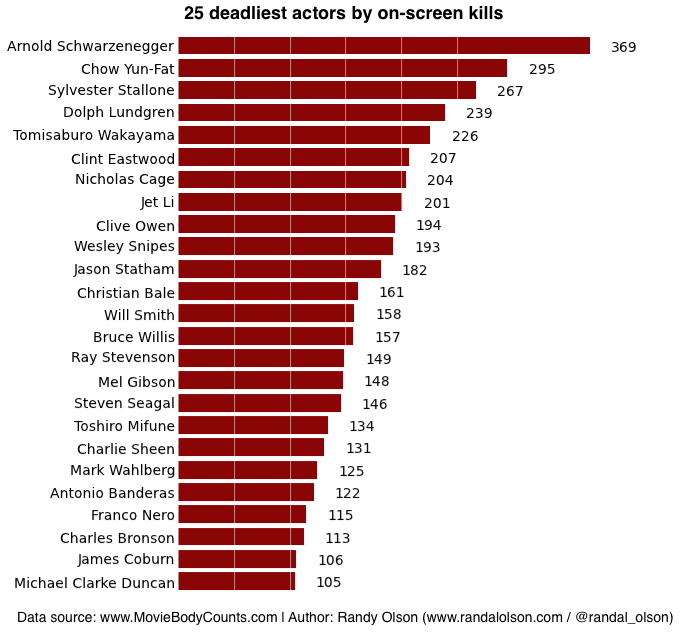 25 deadliest actors by on-screen kill counts[/caption]
Some interesting facts
---
Uma Thurman ranks in as the deadliest woman with 77 on-screen kills.
---
Arnold Schwarzenegger's highest single-film kill count comes from Commando (1985), where in the final island scene he racked up 74 kills: 2 throats slit, 51 people shot, 1 person stabbed, 2 people stabbed by circular blades, 5 people blown up by grenades, 5 people blown up by rocket launcher, 7 people blown up by planted explosives, and 1 unfortunate person impaled.
---
The highest kill count by any one person in a film was attained by Tomisaburo Wakayama, who scored a shocking 150 kills in Lone Wolf and Cub: White Heaven in Hell (1974).
---
Have you found any interesting facts in the data? Post them as a comment here!